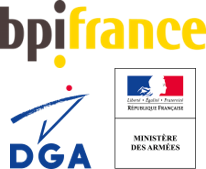 Definvest is a specialized equity fund focused on start-ups and SMEs regarded  as strategic for the French defence sector.
Hemeria is a French company that designs, builds and assemble small satellites as well as on-board electronic equipment for the French deterrence force.

Breizhup is a regional equity co-investment fund founded in november 2015. Managed by Sofimac Innovation, Breizhup funds innovative startup companies registered in Brittany.