Illegal, Unreported and Unregulated (IUU) fishing participates in environmental degradation.
Biodiversity loss
About 30% of the world fish stocks are overexploited. Nowadays, the global fishing fleet overcapacity has increased tension on available fishing stocks, especially on vulnerable, threatened or endangered species.
Leading to many other trafficking activities
+ 300% in 8 years It is the increasing number of fishing vessels that have engaged in other trafficking activities (drugs, weapons, humans, etc.), or that have funded illicit ones (mafia networks, smuggling, etc.).
An enrichment for some people…
With 20 billion dollars of incomes per year, illegal fishing represents more than 15% of the global incomes generated by fishing worldwide.
… an impoverishment for many others
All over the globe, there are more than 50 million people whose livelihood directly depends on fishing. Among them, the most vulnerable people are artisanal fishermen and their families who see their local fish stocks depleting and the impoverishment of their food supply.
Despite new regulations, quotas and controls that have helped limiting this problem, lots of marine species (fish and mammals) are still vulnerable or endangered with direct and indirect irreparable consequences.
Unseenlabs is aware of these challenges for our planet's future. Last February, and for several days, Unseenlabs carried out an RF data acquisition campaign in the Arabian Sea to geolocate uncooperative vessels (AIS turned off), and to characterize those that are likely to engage in Illegal, Unreported and Unregulated (IUU) fishing.
RF data acquisition campaign in the Arabian Sea
The Arabian Sea is a region of the northern Indian Ocean bounded on the west by the Arabian Peninsula, on the southwest by Somalia, and on the east by India. This sea covers a large area of over 3.8 million km2, and is part of the Indian Ocean while being connected to the Red Sea and the Persian Gulf.
It appears to be one of the main sea routes, especially for hydrocarbons and freight transport. Most of the time, these ships keep their AIS beacon on active mode to avoid collisions with vessels in transit and other fishing vessels in the area.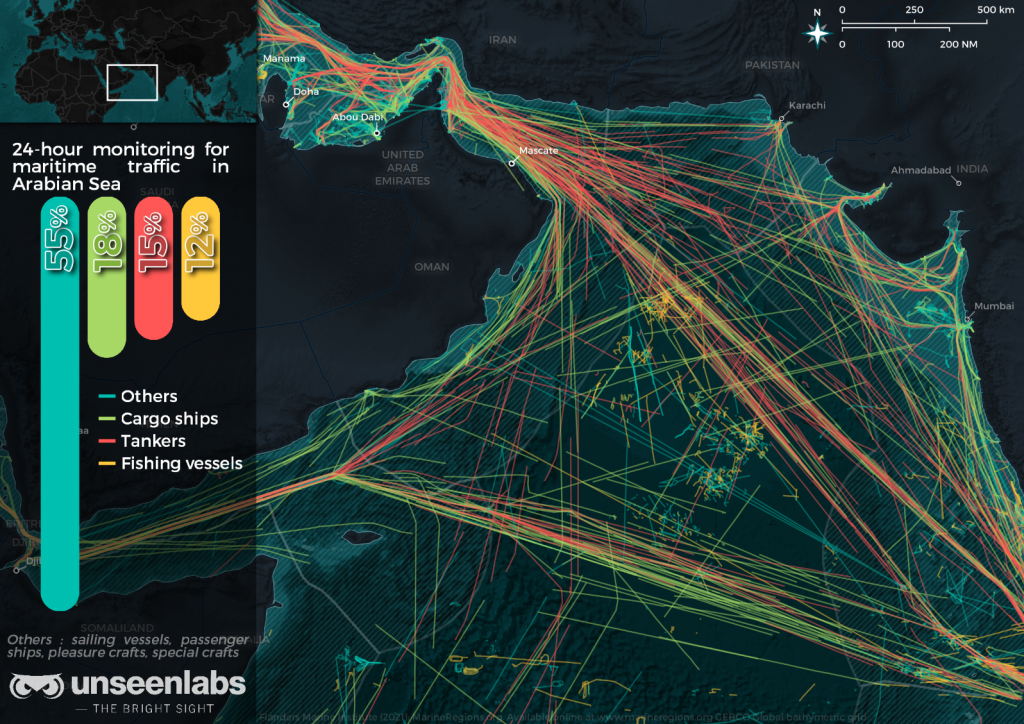 The Arabian Sea – that used to be an area with abundant fish stocks – is in constant decline for more than a decade now. It is mainly due to overfishing, marine pollution (plastics, hydrocarbons) and climate change.
Some species are particularly threatened. For instance, in some Asian countries many shark species, like the sand tiger shark, are killed for their meat or fins. Furthermore, they are often fished by accident and thrown dead into the sea.
The following map shows an RF data acquisition campaign carried out during several days, and reveals 3 main sea areas where many vessels turned off their AIS beacon: international waters outside Exclusive Economic Zones (EEZ), the Omani EEZ and the Indian EEZ.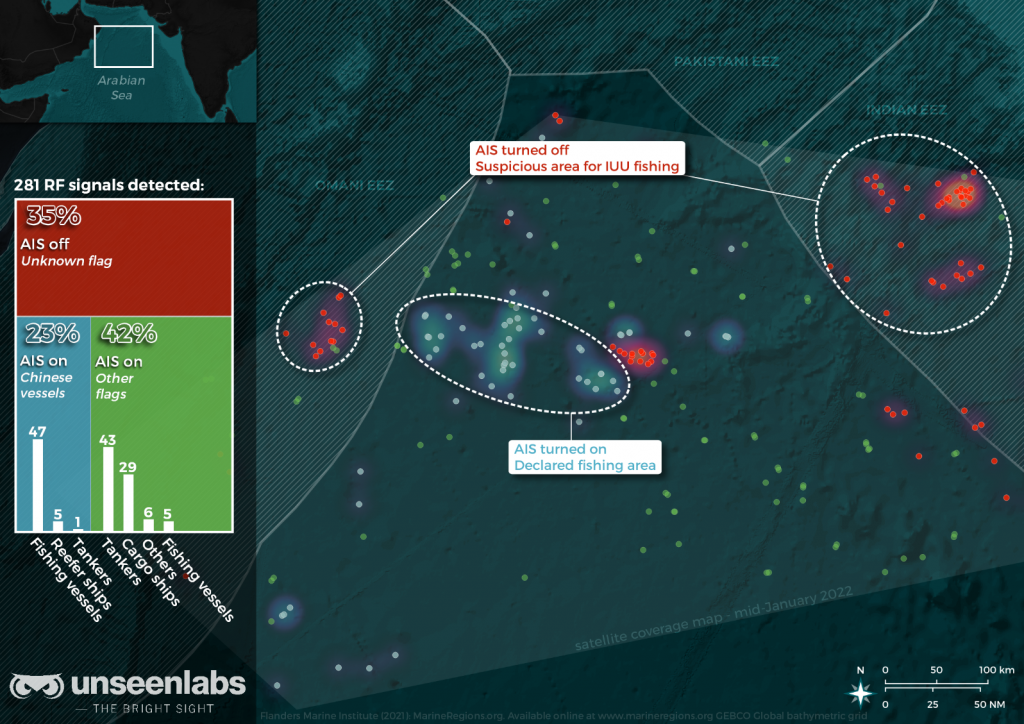 Many Asian fishing vessels come in this zone. While the need for fish products is constantly growing in Asian countries − and with the increase of technical capacities (refrigeration and freezing systems on board, higher tonnages) − Asian fishing fleets (including Chinese, Taiwanese and Thai ones) have grown in number: they now cover larger sea areas.
For instance, during the RF data acquisition campaign carried out in this zone, Unseenlabs' satellites detected Chinese fishing vessels: 120 fishing vessels and 10 reefer ships.
Thus, factory ships move all around the globe and target seas and oceans that have the most abundant targeted fish stocks. There is often another smaller fishing vessel, which is following them to collect a larger number of fish as they gain more cargo space.
Unseenlabs made a 13-day acquisition campaign and detected radio frequency signals emitted by ships travelling in this region. This RF acquisition campaign provides data about 2 undeclared vessels that entered an EEZ:
Case number 1: the Indian Exclusive Economic Zone
Case number 2: the Omani Exclusive Economic Zone
Some fishing vessels turn off their AIS beacon for several hours (or days) to become "invisible". They enter Exclusive Economic Zones (EEZ) to fill their fishing nets and make many round trips to unload fish in other ships located outside the EEZ.
These round trips can be discretely executed for multiple days, even for weeks, depleting more and more fish stocks in some countries.
This first example illustrates a situation detected in the Indian EEZ. There is a Chinese fishing vessel that turned off its AIS beacon.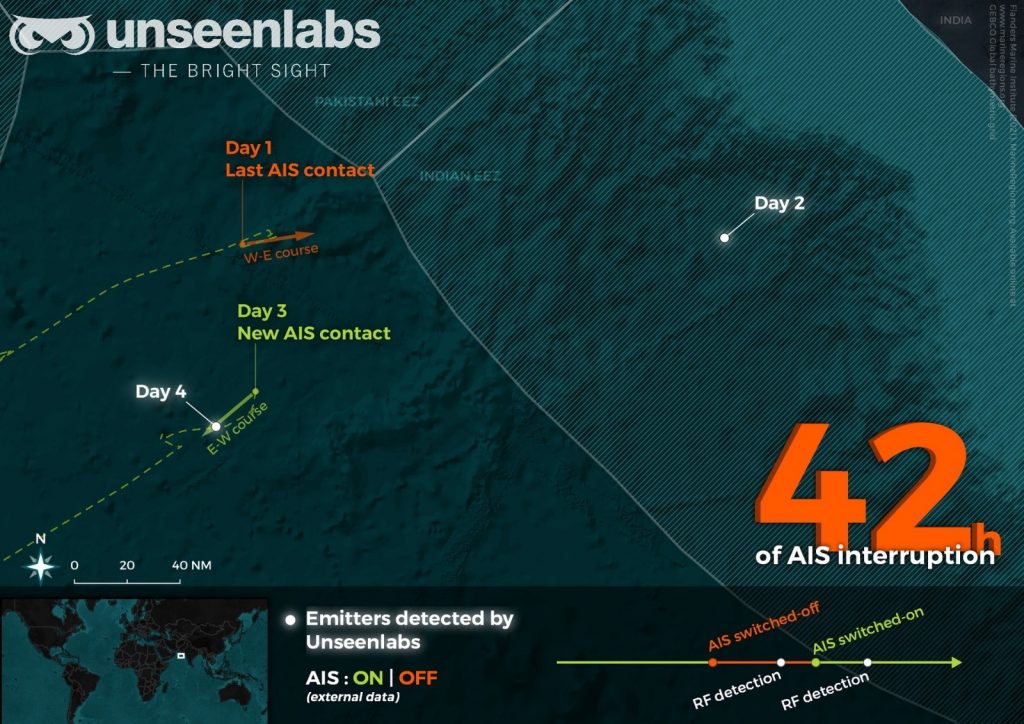 The ship's kinematic suggests that there is a possibility of IUU fishing activities in this area:
Day 1: A Chinese-flagged fishing vessel (>1,100 GT) was located at 60 NM outside the Indian EEZ before turning off its AIS for 42 hours.
Day 2 – evening: Thanks to the emitter's RF characterization, we geolocated this ship at 100 NM inside the Indian EEZ.
Day 3 – mid-day: After 42 hours of AIS interruption, the ship is now located at 80 NM outside the EEZ and is navigating in a southwest direction.
Day 4 – morning: The ship meets another Chinese-flagged fishing vessel at sea (fish carrier size > 5,000 GT).
Ships can turn off their AIS beacon to become unidentifiable:
For safety purposes: to avoid hostile ships (pirates).
To become invisible and avoid being detected by local authorities that monitor their territorial waters and EEZ.
The analysis of this fishing vessel's signals and trips brings us to the second case. Further west, near the Omani EEZ, another suspicious IUU fishing activity was detected: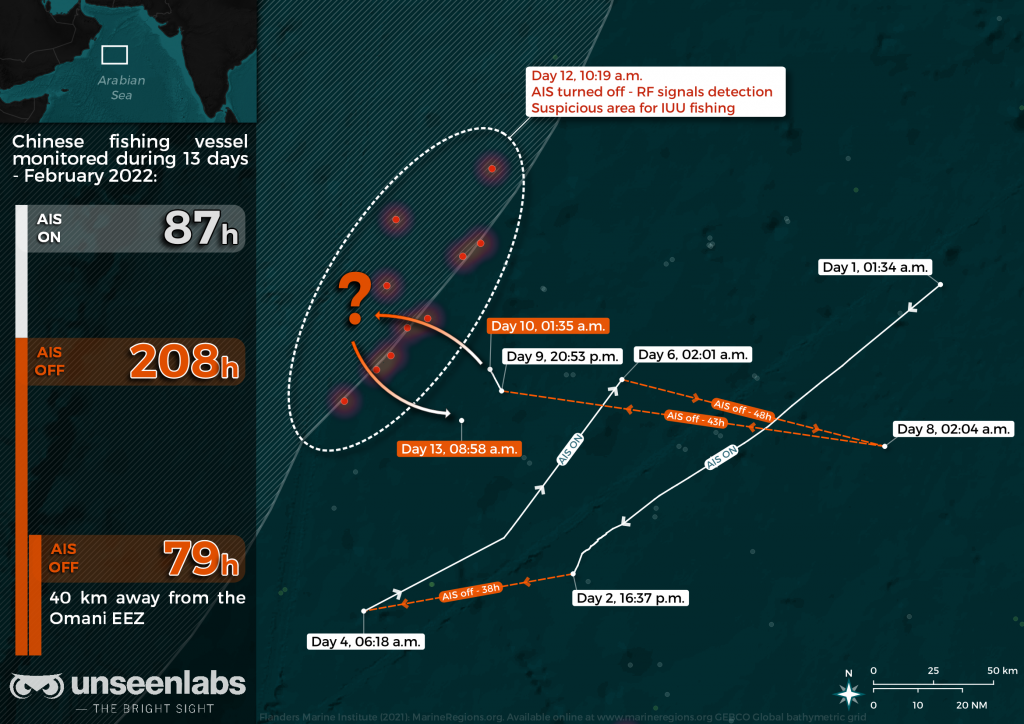 Another fishing vessel was monitored for several days.
The available AIS data and our radio frequency signals detections provide us with information about this ship's geolocation and the reconstitution of its kinematic during more than 10 days.
Thus, we can see that:
This vessel intentionally turned off its AIS beacon several times during this RF data acquisition campaign. Its AIS beacon was off for about 208 hours during the entire period.
After turning off again its AIS beacon, the ship moved away from the EEZ on day 8, before coming back around the 9th day. It is possible that the vessel met another one from its own fleet.
On day 10, this ship was seen navigating near the Omani EEZ and turned off its AIS emitter again during 3 days.
This last observation and the number of vessels without an active AIS beacon near and in the Omani EEZ increase the probability for this ship being engaged in IUU fishing.
Thanks to its space-based RF detection technology, Unseenlabs confirms that there is IUU fishing activities in this zone. These situations are often published through open-source information but are still difficult to catch or demonstrate in real life.